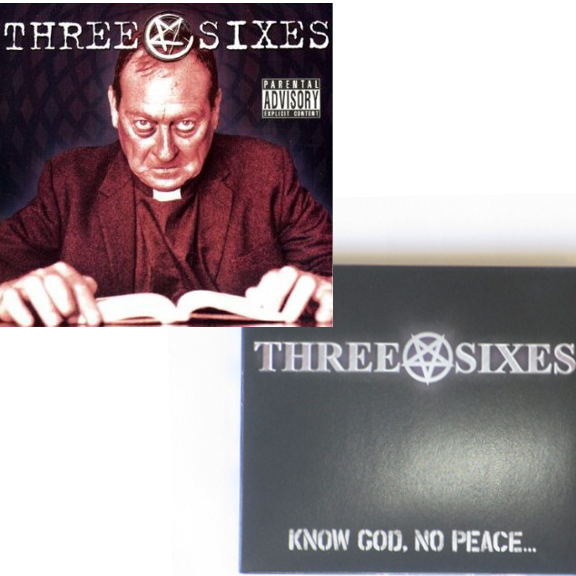 Know God, No Peace and Self Titled 2 CD Pack
$15.00
Get BOTH the Know God, No Peace and Three Sixes Self-Titled CDs for JUST $15 and save some money! This includes the original Self-Titled CD from 2011 and the bands newest release in 2014! The self-titled CD has 13 songs as well as interactive "Holy Man" and "God Denied" videos that can be played on any computer. The Know God, No Peace CD includes a full color pull-out mini poster with lyrics, as well as a QR code you can scan with your smart phone to get access to bonus interviews and video clips available nowhere else.

Know God, No Peace Track Listing:
1. Saviour
2. Lead Winged Angel
3. Darkside
4. Truth
5. Arch Enemy
6. Soul Destroyer
7. Kingdom of Lies
8. Hand of Hell
9. Saint?
10.Thunderstruck
11.Underground Celebrity
12.Unit 731
13.Where Eternity Starts
14.Revelation
15.Know God, No Peace

Self Titled CD Track Listing:
1. Hell's Home
2. Holy Man
3. Paint It Black (Radio Edit)
4. I.F.T.D.
5. God Denied
6. Lord Of The Dead
7. Possession
8. Alone And Terrified
9. Salvationless
10.Heaven Has Died
11.Bleed For Me
12.Lord Of The Dead (Radio Remix)
13.Paint It Black (Unedited)

PRICE INCLUDES TAX AND SHIPPING IN THE CONTINENTAL UNITED STATES. PRICES VARY ELSEWHERE. CONTACT FOR DETAILS.