Name: Konnyaku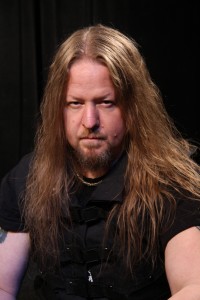 Duties: Drums and percussion
Birth Date: March 14
Quote: "There's nothing to it. You only have to hit the right notes at the right time and the instrument plays itself".
Interests: Drums, percussion, professional hockey, documentaries, horror movies.
Born in Kansas and raised in St Louis, Missouri (USA) until the age of 21, when the calling of music moved him to Southern California after graduating with honors in both music and acting in the "Conservatory of the Arts" in his hometown, Konnyaku expanded his horizons at Musicians Institute, as well as the Los Angeles Recording workshop soon after his West Coast arrival. The insatiable need to play live landed the drummer as an instant favorite in the SoCal thrash scene, to be eventually produced by Tom Araya from Slayer. This became one of many doors that would open to the talented pupil obsessed with learning, who, to this day, is on an eternal mission of perfecting his craft. The unwavering commitment to continual study branched in every direction, from paid sight reading, studio Jazz and R&B sessions, to instructional African tribal hand drum classes to  worldwide tours with bands such as FEAR, Riot and many others. While mastering the use of playing in the studio and live with a click track in Three Sixes, Konnyaku's skills as a drummer and percussionist continue to grow, as do his studies, many endorsements and students he further accumulates.
Endorsed By: