REVIEWS PRIOR TO THE 2014 THREE SIXES CD "KNOW GOD, NO PEACE" BELOW 
Review from NOCTURNALHALL.COM
Chaotic metal music combusting with an array of sexual industrial flavors adds exotic torture spice shedding light with their self entitled third release Three Sixes. The four gents from sunny California unveil music in such a way that without warning one might hail THREE SIXES an upcoming musical innovation of Industrial Erotic Horror Metal for which they might be in start of something completely new. Regardless the THREE SIXES banish all other label descriptions of what one might portray their sound to be, but on the other hand these men are on another league of their own. One of the bonuses they have with their sound is the creativity that is utilized with industrial influences that gives an edge of supremacy that other bands of this day and age do not have. Vocalist Damien LaVey (a.k.a Necrophiliac extraordinaire) belts hellish singing blending his twist with the rest of this sinister bunch breathing life into a sickish band of new levels.
Songs from these demented four ranges in pure sexual perversion to pleasurable delight in various lyrical ways of expression THREE SIXES almost in a way displays humor to the worded content but some might find this psychologically upsetting to listen. Songs that give example to this are Possession, I.F.T.D and Bleed For Me for which are the backbone of strength with this CD, but the videos are another topic entirely to themselves. Despite that fact this current release is a mixture of two previous albums in combination with three new-recorded songs along with two band videos of this release. Above all this has what it takes to grab any true metal fan with an odd sense of humor. Overall listening view of THREE SIXES shows normal recording production but more than makes up is the song content and sound structure overall. Invigorating, alluring and diabolically tasteful THREE SIXES have accomplished what other bands have not. Way to go m/.
_______________________________________________________________________________
Review from METALLIAN.COM CLICK HERE TO GO TO THE ORIGINAL PAGE THREE SIXES
If the band DRI went mad and converted to Satanism Three Sixes would be just that. Three Sixes hailing from Orange County, CA spin their sinister tale of brutality with their self-titled release that is a mixture of previous songs from two earlier releases coupled with three new song additives. Not to bad if you ask me considering this is not your typical evil band of today! Upside to this band has to be the original style Three Sixes has with riffs that verge on the chaotic side of early '90s metal but offering a fresh mesh of sound that makes this group diverse in more ways than one. Track song strengths are Lord Of The Dead, God Denied and Holy Man are raw, thrilling and enticing seductive giving the rest of Three Sixes an untamed energy that gives an erotic twist to a band that some can label lyrically as distortedly sick. Front man Damien LaVey shrills with an otherworldly voice that generates a new eeriness with each song sung; unlike bands with a mainstream vocalist he delivers refreshing forms of wickedness. Highlight power track of this album is song Bleed For Me sounding like an Anthrax tune mixed with techno blasts voicing death counterparts of a sinister crime with fury drum beats. Additive bonus is the two band videos of God Denied and Holy Man which show live band footage mixed with the concept for each video. Downfall to this highly energized group has to be said is that the music gets too repetitive with the song samples ranging in the conversion of rap metal which is not compelling. Nonetheless, these cats rage with tainted imagery that can even make the horrid erotically beautiful. (www.threesixes.com) – Jussi
_______________________________________________________________________________
Review from CLICK HERE TO READ THE INTERVIEW WITH DAMIEN LaVEY AND NOCTURNAL HALL.COM Review from Music Extreme.com
A devastating release with a really modern sound is what we hold in our hands now. The guys in Three Sixes are experts in creating demolishing guitar riffs played with a huge sound and they are experts also in delivering really intense rhythms designed to crush the listener. The vocals sound powerful, being more deathly in some parts and more of the screaming type in others. There is clever repetition of ideas in the tracks which make each of the compositions memorable. The guitar riffs are really wild as are many of the faster rhythms that don´t have mercy for the one that is listening to them. The album has a good sound essential for this type of music to sound powerful….and sure these guys sound heavy as hell!! The cover of Rolling Stones "Paint It Black" adds points being really different from the original version and fitting perfectly the rest of the music that is on this album. A devastating release.
_______________________________________________________________________________
Review from SINISTERIA MAGAZINE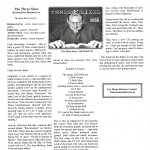 _______________________________________________________________________________
Review from Music Connection Magazine Vol.XXVIII, No. 22 10/25/04 to 11/07/04
These guys wear their black hearts squarely on their bloody sleeves with a full-length disc that makes frequent use of sound-bites, a la Rob Zombie. But these necronauts are far darker and unsettling. "Hell's Home" epitomizes the band's hardcore attack. "Holy Man" steps up the pace with an ear-pummeling assault notable for singer LaVey's relentless delivery. "IFTD" takes necrophilia to absurdly graphic levels and should not be ingested at mealtime.
_______________________________________________________________________________
Review from RockNetWebZine
Okay I like this CD. It's fucking sick as hell. Sure to send Christian fundamentalists screaming for bibles and whatnot. I found the lyrics to be pretty humorous. Yeah, sometimes I have a sick sense of humor and I enjoyed this disc. The musical accompaniment is heavy as hell and the lyrics are the craziest damn ones I've heard in a long time. The sound samples are funny. God helped some guy circumsize him? HAHAHA. With a razor blade. Screwing corpses? I thought "Holy Man" was pretty accurate and I liked The Rolling Stones cover too. This CD has been in the player for a few days now.
_____________________________________________________________________________
Review from MetalFaction.com
Vidimir: Three Sixes was approached by Metal Faction's very own Ambassador and pointed them our way. This release comes via a very impressive press kit, filled with stickers, business cards, bio sheet, press photo and of course a disc.
Let me start off by saying this was a fun, enjoyable listen. I was banging on my steering wheel, driving into work, rocking right along with the band.
Anyways, this metalcore/rapcore outfit can really slam. Killswitch blazes through chord after chord with images of a frothy pit slamming into chaos. Shiva and Konnyaku's backbone assault on the senses is deafening and you can feel the wall of sound slam you in the chest. Lastly we come to Damien. Damien is an anomaly to say the least. His delivery of some of the craziest lyrics I've ever heard is damn genius. On the track "I.F.T.D." he spouts lyrics about fucking dead female corpses in their eye, rib cage and spine. I nearly pissed myself to this song and from what I hear it is quite the crowd favorite. Other tracks include "Lord of the Dead," "Hell's Home" and a solid cover of the Rolling Stone's "Paint It Black." Cover tracks are quite difficult, some are so unrecognizable and other versions are barely tweaked beyond their initial recording, however Three Sixes manage to do both by keeping the original fairly intact, but still lending their demonic, pounding sound to it. My favorite track on this disc by far has got to be "Holy Man." I found myself very quickly singing the chorus of, "Fuck you holy man and your book of lies, eat shit and die, eat shit and die." They have a pretty killer video for this track as well up on the Three Sixes homepage.
Having received this release as a promo, I'd still very much purchase this disc. Rating: 5/5 Mad Dog Bottles
Evilash: i got to agree with vidimir. him and i both wanted to review this artist, but in the end vidimir won. i just concure with everything…this band is amazing. 9/10
_______________________________________________________________________________
Band Interview with MusicForce.net
The first band of the night was a fantastic band who call themselves Three Sixes or 666 for short. These guys were tremendous to say the least and really started off the show with a bang. These guys had a massive fan-base and were they ever into the performance. Three Sixes rocked the Chain Reaction stage for a good 30 minutes and I really enjoyed the bands performance. Upon the completion of the bands set they went outside to load up their truck and a majority of their fans went out with the band…. The third band of the night was another great hard rock band whos name is The Disciples. These guys did not have as much crowd response as that of Three Sixes but they did manage to win the crowd over…
______________________________________________________________________________
An Interview from KEEPER MAGAZINE – (click on images to enlarge. If image is small, place cursor on image for a few seconds and click on enlargement icon that appears in bottom right corner of image.)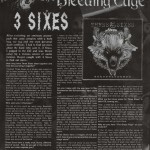 A Review from Metal-Exiles.com Three Sixes Viper Room March 1st Posted by Jeff/skinwalker on 3/8/2003
Let me start off by saying Three Sixes is a sick band and I like them for that. Their music, their stage presence and their look are all intended to mess with your head. The frontman, Damien LaVey, has a way to work the stage and the crowd and has the perfect attitude for his music. They have incredible music also, playing tracks from both of their cds, Possession and Salvationless. Their music is heavy, brutal and the vocals are intense!! From Possession and Bleed For Me to Alone And Terrified and Salvationless, they got the Viper Room off. If you are wondering what this band is all about, check out their website at www.threesixes.com and listen for yourself.
_______________________________________________________________________________
A Review from Metalhall.com
I'm not a big fan of the whole rap-metal thing, in any way, shape, or form. But I do recognize talent when I see it, and Three Sixes are some talented, evil, motherfuckers. They ooze this Slipknot kind of vibe with the jumpsuit look, except they don't need the stupid masks to freak the hell out of you. At Kozmos, last Saturday, Three Sixes opened the show for The Iron Maidens (thumbs up again, Maidens, for promoting local, original metal), and they tore through a set of songs with such delightfully "family-time" titles like "I Fuck The Dead," "Hell's Home," and "God Denied," with evil aplomb. Somebody call Senator Liebermann and Tipper Gore, these guys are the poster boys for "family values" hehehehehe… Check them out next time they defile a club, (and a virgin…) near you.
_______________________________________________________________________________
A Review from Harder Beat Magazine, Dallas, Texas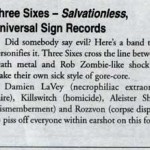 ______________________________________________________________________________
Review from OC Weekly, Orange County, California
Though the best bands are local, not all local bands are best, and occasionally the local music we receive at LowBallAssChatter Central is so terrifyingly bad we're, like, post-traumatic-stress-syndromed, approaching each envelope with the wariness of an Israeli bomb squad. Yet sometimes, a package arrives that's so artfully done we can't resist scrawling about it. Take OC metal band Three Sixes, who've got a crafty death/Satan shtick going. First, they zipped up their press kit in a nifty black body bag, complete with coroner tag reading "Name of Deceased: OC Weekly. Cause of Death: Too much music!" Their bio reveals band members with names such as "Damien LaVey" and "Killswitch," and they sweetly boast, "ARMAGEDDON IS HERE. ITS SOUNDTRACK HAS BEEN WRITTEN." The kicker, though, is the death certificate they lovingly filled out for us. Our Social Security number: 666-66-6666! (!!!) Cause of death: cranial combustion, auto-erotic asphyxiation, metal music, demonic possession and a slipped disc whilst performing multiple acts of necrophilia!? (Damn, we're overworked even when we're dying!) As for the music, well, we ain't into it—"I Fuck the Dead" is Cannibal Corpse lite—but, hey, maybe you'll be. Read more at www.threesixes.com. (RK)
______________________________________________________________________________
Press release for an upcoming compilation CD featuring THREE SIXES
Three Sixes — unclassifiably and incomparably shattering every icon and trampling the norm, a band stormtrooping forward to capture the world's extremities and edges, an industrial / rapcore/ rampant voice and sound unlike any other, poised for world conquest and likely presenting the inverse savior-force of the band's new track "Salvationless"!
-Brandon L. Clark BLC Productions Little Rock, Arkansas
_______________________________________________________________________________
Yet another killer review of 'Possession'! The Dug Graves show – Sundays @ 10 P.M. (pacific) 91.5 FM K.Y.D.S / 88.1 CABLE FM online www.sacramento.org/voice A Review of the new "THREE SIXES" album "POSSESSION" by Dug Graves
This band is a force to be reckoned with! Their hard core style puts them equal to the greats of METAL! Never has a band rolled out such ferociously killer jams.. Tracks like "LORD OF THE DEAD" with its no mercy assault of lyrics and fury make these guys destined to rule the metal world. On another track they give GWAR a run for the most gruesome song ever with I.F.T.D. This song is RUDE and offfensive and wonderfully OBSCENE!! Play it at your next x-mas or office party. All in all I haven't been rocked like this in years, and I look forward to more from the single most hard core motherfuckers on this or any planet!!!
DUG GRAVES DJ OF THE LIVING DEAD
_______________________________________________________________________________
Reviewer Magazine, Number 8, September 2000

_______________________________________________________________________________
The Coolest Review Ever! Flipside Magazine, Number 122, August 2000

---